Item specifics
Condition:

Brand New:

A new, unread, unused book in perfect condition with no missing or damaged pages. See the seller's

... Read moreabout the condition

Format:

Paperback

ISBN-13:

9781475799118

Language:

English

UPC:

Does not apply

ISBN:

9781475799118

EAN:

9781475799118
FREE SHIPPING AUSTRALIA WIDE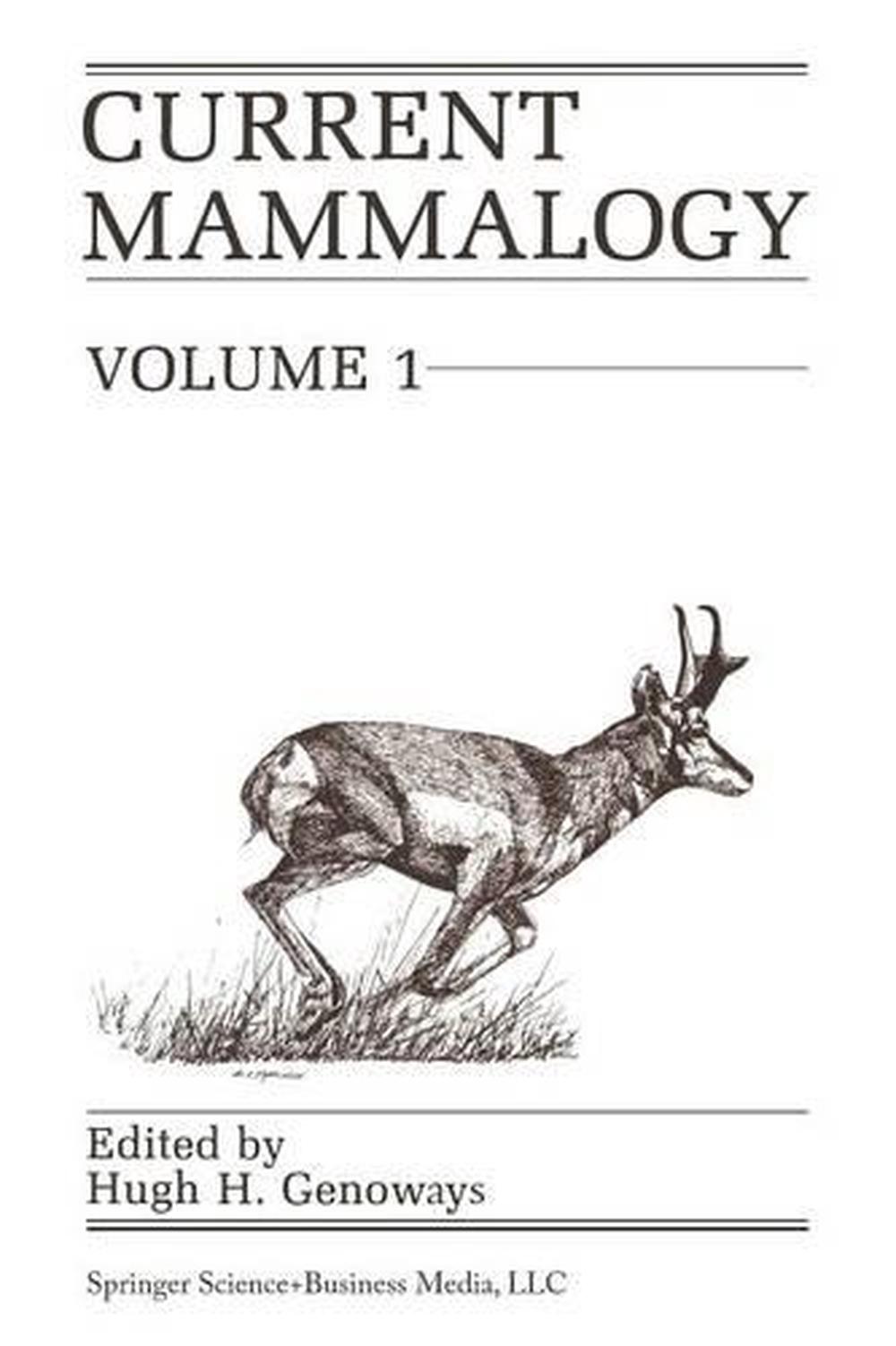 Current Mammalogy: Volume 1
When I first proposed a series entitled Current Mammalogy to the pub­ lishers, they were reluctant to undertake such a project because they viewed the field of mammology as overly fragmented. At first I found this idea to be difficult to accept; however, upon reflection, I came near to agreeing with it. Although many of us work on mammals, we gen­ erally feel more allegiance to our specialties, such as systematics, ge­ netics, cytogenetics, ecology, behavior, pest control, paleontology, wildlife management, primatology, and marine mammalogy, than we do to the general field of mammalogy. However, rather than becoming discour­ aged from pursuing this project, I became more certain than ever that a series such as Current Mammalogy was needed. We hope to make this series a place where specialists can present their ideas not only to other members of their specialty, but to those outside the area as well. Hopefully, this exchange of ideas will be a mutually beneficial exercise. The Editorial Board of Current Mammalogy has decided to keep the range of subjects in each volume as broad as possible rather than concentrating on one or two topics, in the hope that this will keep the series as useful as possible to the broadest range of read
FORMAT
Paperback
LANGUAGE
English
CONDITION
Brand New
Publisher Description
When I first proposed a series entitled Current Mammalogy to the pub- lishers, they were reluctant to undertake such a project because they viewed the field of mammology as overly fragmented. At first I found this idea to be difficult to accept; however, upon reflection, I came near to agreeing with it. Although many of us work on mammals, we gen- erally feel more allegiance to our specialties, such as systematics, ge- netics, cytogenetics, ecology, behavior, pest control, paleontology, wildlife management, primatology, and marine mammalogy, than we do to the general field of mammalogy. However, rather than becoming discour- aged from pursuing this project, I became more certain than ever that a series such as Current Mammalogy was needed. We hope to make this series a place where specialists can present their ideas not only to other members of their specialty, but to those outside the area as well. Hopefully, this exchange of ideas will be a mutually beneficial exercise. The Editorial Board of Current Mammalogy has decided to keep the range of subjects in each volume as broad as possible rather than concentrating on one or two topics, in the hope that this will keep the series as useful as possible to the broadest range of readers.
Table of Contents
1 Mammalian Evolution at the Cellular Level.- 2 Role of Chromosomal Banding Patterns in Understanding Mammalian Evolution.- 3 The Origin of Rodents and Lagomorphs.- 4 Punctuated Equilibrium and Phyletic Gradualism: Some Facts from the Quaternary Mammalian Record.- 5 Mammalian Reproductive Physiology: Adaptive Responses to Changing Environments.- 6 The Behavior, Physiology, and Anay of Lactation in the Pinnipedia.- 7 The Social Structure of Free-Ranging Bottlenose Dolphins.- 8 Ecological, Morphological, and Behavioral Convergence in Rock-Dwelling Mammals.- 9 Ants and Termites As Food: Patterns of Mammalian Myrmecophagy.- 10 A Review of Density Dependence in Populations of Large Mammals.- 11 Behavioral Ecology of the Nevada Kit Fox (Vulpes macrotis nevadensis) on a Managed Desert Rangeland.- 12 Somatic Mutation in the Polynesian Rat (Rattus exulans) at Enewetak Nuclear Test Site.- 13 Current Management Strategies for Commensal Rodents.
Details
ISBN147579911X
Short TitleCURRENT MAMMALOGY SOFTCOVER RE
PublisherSpringer
Edition DescriptionSoftcover Repri
LanguageEnglish
ISBN-10147579911X
ISBN-139781475799118
MediaBook
FormatPaperback
DEWEY576.8
Year2013
Publication Date2013-05-05
ImprintSpringer-Verlag New York Inc.
Place of PublicationNew York, NY
Country of PublicationUnited States
Edited byH.H. Genoways
Pages520
SubtitleVolume 1
IllustrationsXX, 520 p.
Dimensions152mm x 28mm x 229mm
There are currently no product reviews.