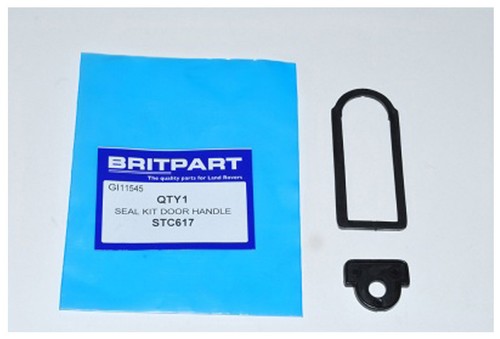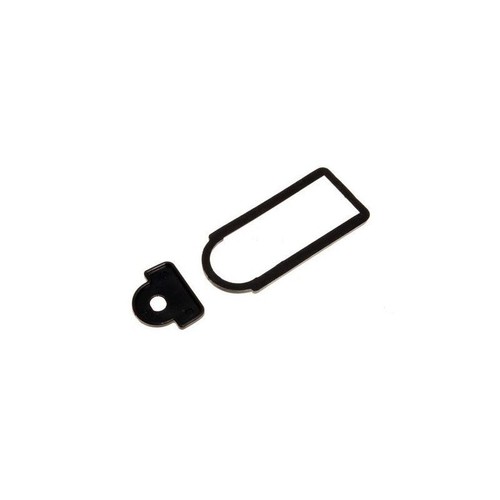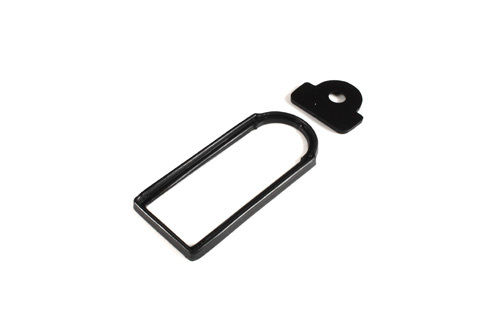 Item specifics
Condition:

Brand New:

A brand-new, unused, unopened, undamaged item in its original packaging (where packaging is

... Read moreabout the condition

Warranty:

90 Day

Manufacturer Part Number:

STC617

Interchange Part Number:

DEFENDER 90/110 1987-2002 DOOR HANDLE GASKET SET

Country/Region of Manufacture:

United Kingdom

Placement on Vehicle:

Right, Rear, Right Side, Front, Left Side, Front, Front, Right Side, Rear, Left Side, Rear, Left

Primary Color:

Black

OE Spec or Performance/Cus:

OE Spec

Surface Finish:

DOOR HANDLE GASKET SEAL SET PART STC617

Brand:

Britpart

Type:

Door Handle
When ordering from the US, parcels may be subject to import tax and duty charges, which the buyer is responsible to .
LAND ROVER DEFENDER 90 / 110 1987-2002 DOOR HANDLE GASKET SEAL SET PART STC617
BRAND NEW - BRITPART BRAND PART NUMBER STC617
Door handle gaskets which fits all 90/110 Defender models from 1987 to 2002
A new set of gaskets to go behind the exterior door handles, these will fit both front or rear doors and left or right.
Models affected:
Defender – All Models 1987-2002
LRNJ AUTOPARTS
Shipping Rates
Shipping rates depend on the selected shipping speed andweight/size of the items.
To determine the applicable shipping rate for items in yourCart:
Select Proceed to Checkout
Select or add your shipping address
Select a shipping speed and select Continue
Select a ment method and select Continue
The total shipping & handling cost will be listed underOrder Summary
Policy
Please see our shipping and returns policybelow or contact us if you have any questions.
We understand that there are many reasons whyyou may wish to return part(s) or may even wish to cancel your order.
We are required to physically inspect allreturned items before we can exchange them or before a credit note can beissued.
Return of parts (within 30 days)
You can cancel your order (in writing) anytime before it has been dispatched.
An order may not be cancelled after it hasbeen dispatched or while it is in transit, but must be treated as a return.
In this eventuality a refund will be providedwhen the goods are returned to us.
You must immediately return the goods at yourown cost (carriage charges are non-refundable).
Please ensure all goods are adequately packedto avoid damage, you should insure them accordingly with the carrier and obtaina proof of shipment.
Please note that all goods must be in thecondition supplied at the point of sale and with their original,
undamaged packaging. If this is the case wewill be unable to refund you for this product and the good(s) may be returned toyou.
No responsibility can be accepted for goodsreceived by us, damaged.
Returns are not permitted on parts speciallyordered by LRNJ AUTOPARTS from other Suppliers on the cuser's behalf.
Returns of Parts Not Required - Outside 30days
No returns will be considered after 30 daysunless covered by the terms and conditions of our warranty.
Other Returns
Any other returns will be dealt with inaccordance with your statutory rights, if applicable, or our warranty.
Please note that returns are processed asquickly as possible. During busy periods returns may take up to 14 days toprocess.
Your statutory rights remainunaffected. Please note that any returns may be subjected to a 10%re-stocking fee.
Incorrect goods dispatched
Occasionally the wrong item is sent to acuser. You are free to return these goods in new & unused condition for30 days after delivery.
You will have the option of an exchange forthe correct item or a full refund. If you have been incorrectly charged, wewill correct the discrepancy.
LRNJ AUTOPARTS will meet the cost of returnspostage for goods sent in error (within reasonable limits) once received backto our premises.
In some instances, the value of the goods maynot make it a viable proposition to send back to us and in thesecircumstances,
we may ask for photographic evidence or writeoff the goods.
Important
Exchanges will only be made where the sameitem is available in stock at the same price as the original.
Items bought at special offer pricescannot be subsequently exchanged for identical items on sale at higherprices.
If an item is not available a full refund maybe the only option.
Exchange procedure
If you are returning goods for anexchange we would normally have to wait for the goods to arrive with us andinspect them
before we can send out thereplacement. However, we recognize that sometimes an exchange must be madequickly
and so we can send out a replacementimmediately.
We must take ment for the replacement butas soon as the return arrives we will give you a refund on that cost.
Information about your package
The tracking detail page provides detailedinformation about your shipment, including your shipment's current status andestimated delivery date.
Delivery days and times vary by service type.
Standard Operating Procedures for destinationcountry will apply, and signature may or may not be obtained.
For packages requiring the signature forrelease:
As a seller we reserve the right to sendorders with or without signature requirement on our choice. You will not becharged for a signature service.
However, if this type of delivery is notconvenient for buyer, when placing an order there is an option to leave anote
for seller requesting to ship package withoutsignature confirmation.
It means the seller won't be obliged for anypackages left unattended after delivery.
For packages not requiring a signature forrelease:
post drivers will leave the package at arecipient's door, or other secure location, if the driver believes it is reasonableto do so.
International orders/shipments outside USA(Import Taxes and Duties Fees)
Please note that all import duties, taxes, ifany, occurred and due for ment outside USA must be paid by the cusers(buyers)
and that is considered to be their fullresponsibility (with no exclusions).
Import duties and taxes are not included inthe parts' price and are supposed to be paid additionally when the items arriveto the cuser's country.
In case of non-ment of such importduties or taxes the items will be returned to LRNJ AUTOPARTS
and the returning shipping cost will beapplied and charged from the cuser (buyer).
Tax Information
Sales Tax for Florida State Pasco County 7%
The combined sales tax rate for Pasco County,FL is 7%. This is the total of state and county sales tax rates.
The Florida state sales tax rate iscurrently 6%. The Pasco County sales tax rate is 1%.
Add a map to your own listings. FREE Trial !
| | |
| --- | --- |
| Warranty | 90 Day |
| Interchange Part Number | DEFENDER 90/110 1987-2002 DOOR HANDLE GASKET SET |
| Placement on Vehicle | Front, Left Side |
| Placement on Vehicle | Left |
| Placement on Vehicle | Front, Right Side |
| Placement on Vehicle | Right |
| Placement on Vehicle | Front |
| Placement on Vehicle | Rear, Left Side |
| Placement on Vehicle | Rear |
| Placement on Vehicle | Rear, Right Side |
| OE Spec or Performance/Cus | OE Spec |
| Brand | Britpart |
| Manufacturer Part Number | STC617 |
| Country/Region of Manufacture | United Kingdom |
| UPC | Does not apply |
| Primary Color | Black |
| Surface Finish | DOOR HANDLE GASKET SEAL SET PART STC617 |
| Type | Door Handle |
There are currently no product reviews.